The Polar Express
 pulls a line of
passenger cars
, including an
Observation Car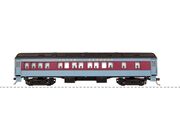 and an
abandoned toy car
, where the children and the
Conductor
ride in during journey to the
North Pole
.
Basis
The passenger cars are all based on a Strasburg Railroad coach.
Livery
All of the passenger cars share the same livery. They are blue with a red stripe going along the side windows and a black roof. In the film, the next to last car has the words, "Polar Express" in yellow on the sides under the windows, though this is not present in the book.
In most merchandise lines, the wording appears on all the cars and is above the windows instead of below.
Trivia
The train appears with five cars throughout most of the film. However, on occasion, it is seen with as little as three or as many as eleven and twenty.
The interiors of only three of the cars are seen in the film, including the abandoned toy car, the observation car, and next to last passenger car.
It is currently unknown how many cars the train pulls in The book but when the story were featured in "The Polar Express, CD-ROM Multimedia Edition" from "Houghton Mifflin interactive" it reveals that it's pulling seven cars. However, when the train goes through the woods where the wolves are watch the train pass by it is seen with eight cars.