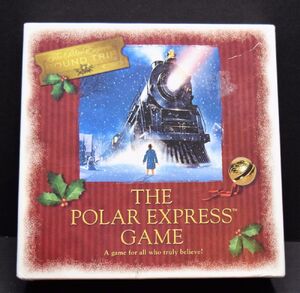 "A game for all who truly believe!"
— Tagline
The Polar Express Game is a board game based off of the 2004 film, The Polar Express.
Description
"In the game, the first player to reach the North Pole receives the first gift of Christmas - a sleigh bell from Santa's reindeer. The winner rings the bell and gives Christmas Wishes to each player. But first, they'll have to make it up the track, avoiding Caribou Crossings, Glacier Gulches and Avalanches. A simple plan or a clever strategy might get them there ... or they may need help from Santa himself! It's a trip on a magic train and fun-filled ride to share with family and friends.
Game Components:
Game board, 4 colored cubes used for player tokens, 42 numbered playing cards, 10 Specialty cards, 4 Quick start cards, 28 Wish cards, a velvet pouch to hold the wish cards, a sleigh bell and strap for the bell."